This page is a place for our Elders to share regular updates about our church. If you have any questions or comments, please contact an elder.
Update from the Elders
August 18, 2020
Hello, church!
We wanted to take this opportunity to explain what we're doing for lifegroups right now.
Life Groups are intended to provide connection & equipping with focus on fellowship, prayer, studying the Bible together, and missional living. While this has been our aim for some time, Dustin is drawing on some of his experiences and training to bring renewed focus to our time together. Additionally, we face the challenges of COVID making it difficult to meet the way we used to.
We've decided to meet altogether in a backyard on Wednesday evenings, 6-8 pm (usually the Quinn's, 7806 Haven in Huntsville), and each bring your own dinner if you would like to eat, in order to facilitate safe practices due to COVID. In the case of rain preventing our outdoor, we intend to mask up and move indoors – we understand some of you may not be able to participate in that case; let's just pray for good Wednesday weather!
We will fellowship & eat dinner together for a bit, then we will break up into groups of 6 to 10 people to explore the Word together. Dustin has been leading us in "the Swedish Bible Study Method", which I've found both enriching and accessible to all! If you've come recently and learned it with us, we'd encourage you to also practice it in your personal Bible reading, or with your family.
Of course it could all look different in a few months, so we'll adjust as needed – but hope to see many of you on a Wednesday soon!
july 11, 2020
Hello Life's Journey,
you may have read the Madison County Health order about facemasks, including the line that pertains directly to our Sunday gatherings:
"Although not mandated, face coverings are strongly recommended for congregants at worship services"
We appreciate your patience with us over the last few weeks attempting to adjust safely and wisely to the current needs while maintaining the opportunity to meet together. We want to follow the law, but we don't want to merely follow the law – we want to respond with wisdom and grace to the current data, motivated by Christ's values. It's clear that as a society we in the Huntsville area have not yet found the way to be "open" without some degree of exponential case growth.
In our own meetings so far, the distanced-seating, voluntary face-mask wearing, and small pool of people has likely reduced our risk of spreading the COVID, but there are residual risks. From reading information this week, a major uncertainty is if or how much the virus can remain airborne and viable long enough to be recycled through the air conditioning. For this reason, it seems reasonable to echo the County in strongly recommending face coverings at our worship services. Not just for those of you who consider yourselves high-risk, but for all of us.
Remember that if you have a cloth facemask, the main risk it reduces is you spreading the virus without knowing that you have it. Taking this precaution is an expression of our faith in terms of humility and of considering others above ourselves.
We also recognize that many of you will not be joining us in person until the risk is much subsided, especially indoors during the heat of summer. But we want to stay connected with you! As one method to assist with that, we will soon be live-streaming our messages.
Finally, regarding communion, we have begun to procure the individually wrapped communion cup/wafer, and will distribute them into the seats early by a gloved, masked volunteer.
June 15, 2020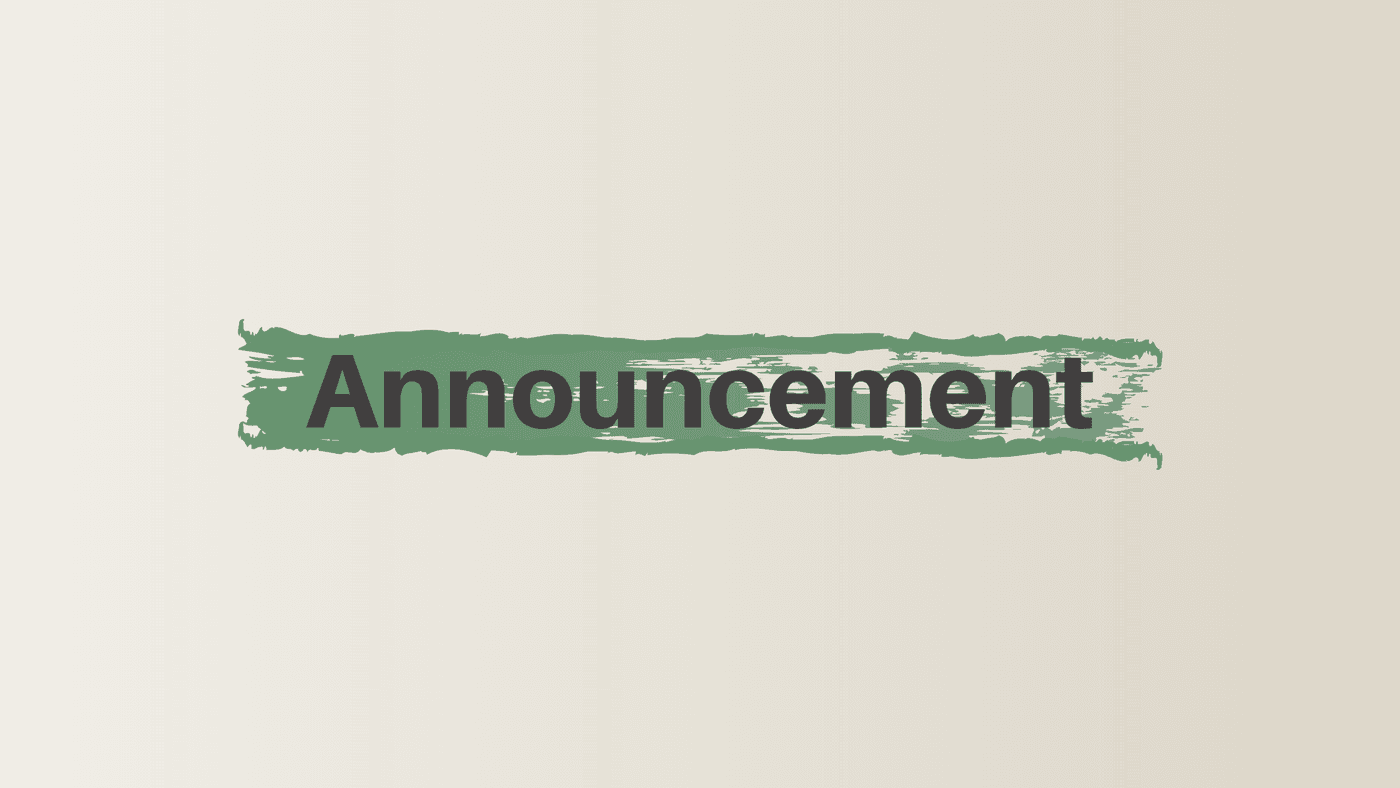 Dear Life's Journey church,
We gladly announce Dustin Dodson as our new pastor! After the period of vetting, praying, and presenting him, the final step of Sunday's vote capped off the process with overwhelming support.
He will begin next week, and we will commission him at the Sunday evening service on June 28th. He is eager to get to know each one of you, so stay tuned for details about how to connect.
We are excited and confident by God's grace to see where he takes us next, with Dustin, together.
-The Elders
June 7, 2020
We were getting ready in March to have this meeting with you, and today we want to review some of how we got here, and share some additional process we went through that we haven't had the opportunity to talk about yet.
Over the winter, while we were talking to Dustin, we also talked to 3 other men about joining us as pastor. In addition, we reached out to established churches in this city – not just about merging, though we were open to that if God led that way, but as a recognition that we needed help and growth as leaders, and the fellowship that God often uses to solidify a path forward. So we had conversations with pastors at Summit Crossing, Rivertree, CFBC here, and Essential Church. Out of that, we have continuing relationships for coaching and encouragement. One serious possibility for merging came out of that: with Essential Church we talked about absorbing into them with the aim to launch an Essential Church campus in our neighborhood next year after planning together. While these discussions entailed some encouraging kingdom-minded fellowship, we decided not to merge at this time. They had said "we could do this, but we aren't convinced you guys need to," and we became convinced that finding a mother-church wasn't what we needed – instead, we have 4 "uncle churches" that can speak into us, help us shore up the leadership areas we need to grow in, and help us address what we'll meet in the next chapters of our church life.
Meanwhile, we were getting to know Dustin, and became more and more excited about how he could both fit with us and energize us. I'd like you to picture with me: 3 bubbles that overlap: there's who we are, there's what Dustin brings in, and there's our future. Let me read from our announcement in March our general reasons for proposing Dustin as Pastor:
He holds to the same essentials we do about what the gospel is, who God is, and what the church is (e.g., preaching the Bible to preach the gospel, Christ-centered worship, prayer, mission-mindedness)
More specifically, he is consistent with what we laid out in the "who we are" note (briefly, we lean on the power of Holy Spirit to transform us, to make us holy, rather than on legalism, and we value the calling of God's people together to build one another up as disciples).
In fact, he tells us that when he read it, he thought he could have written it.
Then practically, he is a man with certain gifts, experiences and passions that complement us, and bring fresh ideas and energy for implementing the vision
As one example, he has some significant experience with and passion for discipleship and life groups – we are hopeful this can get us to a more comprehensive and concrete way of serving one another in these areas.
Furthermore, we believe he exhibits the life-change promised in II Cor 5:17, that "anyone in Christ is a new creation" in some tangible ways
We think that having Dustin on board will take the best things about who we have been and sharpen them to greater clarity and hone us to greater effectiveness, that we may become who we're meant to be. We believe that there are many in S. Huntsville who have stopped going to church or never believed who we might be well-suited to reach.
For the reasons we mentioned, and what you heard in the video interviews with Dustin posted back in March, we put him forward to you. This 'voting' procedure is meant to provide us with every opportunity to hear from you, and we hope to be providing you with every opportunity to show you what we see in him.
May 3, 2020
Hello Life's Journey,
Sure was a great time Sunday night, wasn't it? We've been talking about what things might look like over the next month plus, and wanted to share with you our tentative plan.
May 3rd and 10th (Happy Mother's Day) we'll stay at home again, and we'll release audio sermons on the website like Keith was doing, brought to you by we elders.
May 17th we'll do a live parking lot service again, with Blake preaching (we'll see if we can work out the sound kinks on the stage-left side).
May 24th Memorial Day weekend, we'll go online again
May 31st Dustin Dodson will preach for a live in-person service: Possibly inside, or maybe with the tent on the lawn, depending on the state of COVID things.
Then we hope in early June to move toward answering any final questions and holding a vote about confirming Dustin as our pastor.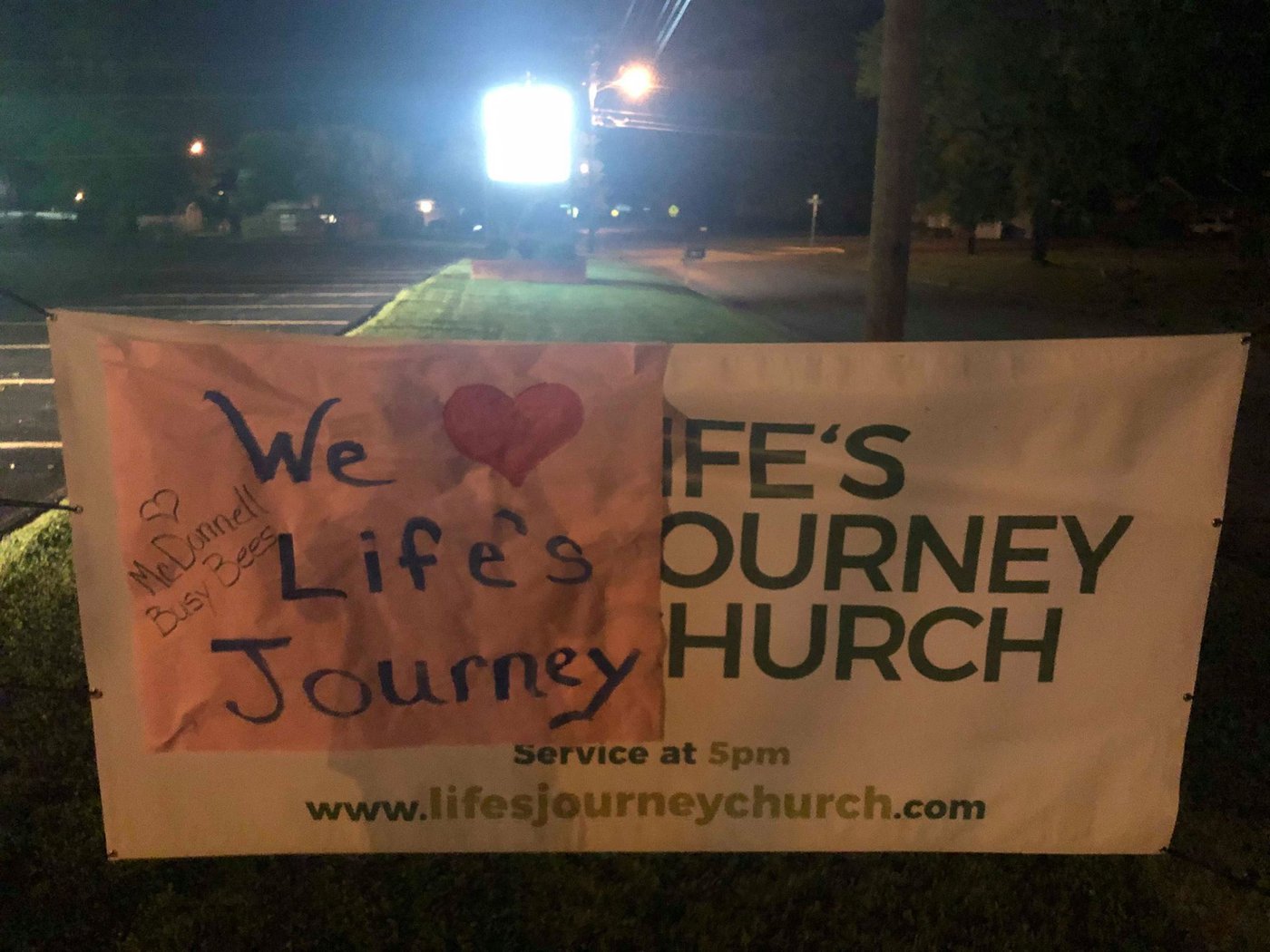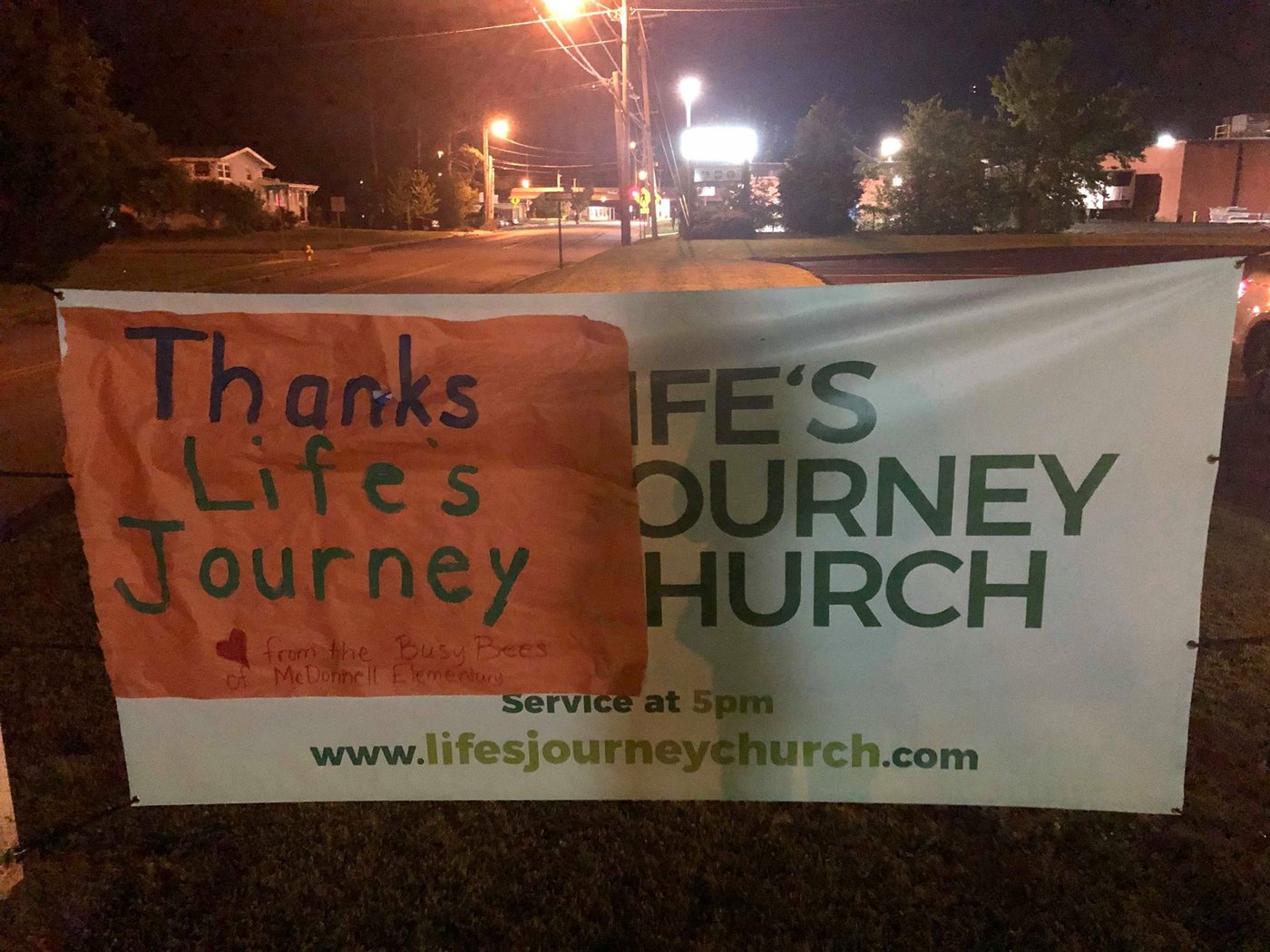 March 19, 2020
Hello Life's Journey,
interesting times we're living in, but we know that our Father is both the God of the big picture, and the God of the details – he's working all these things for the good of his people. A few thoughts from the elders:
1. We will again this week not meet on Sunday evening (March 22). We're working on being able to post a brief message from Keith for Sunday for us to each hear remotely – we'll post it to the Sermons portion of the website when it's ready. Also, there had been talk of a pancake breakfast – that is postponed or canceled as well.
2. I hope you all saw our message Saturday night presenting Dustin Dodson as a candidate for pastor. We had planned part of the process to be having a video interview with him – now with the present shutting down of gatherings, this is an even more salient opportunity! Dave and Tim filmed with Dustin Monday evening, and video cuts are coming out. Stay tuned over the next days for how to view these. And of course we encourage you to contact the leadership and one another and to discuss our future in any case.
3. Amid the coronavirus pandemic, I've been wondering "how are we to live as Christians in this time?" A few thoughts came to mind:
We can be a voice of hope in God's sovereign care to those that are panicking.
While most of us may not have the medical training to be of much help to those who are sick, we can reach out to others who need help:
- I've heard examples of helping at-risk people stay isolated but still get the things they need by going shopping for them.
- The more this goes on, some will be unable to work, and not get paid for it – or some already are perhaps getting shorted because business is slow at their restaurant or coffee shop.
Let's be prayerful and creative about how to be generous to those who will be in need during this unprecedented time. Start by thinking about your circle – those within the body, then your neighbors or other associates.
Others have been thinking about this also of course. I appreciate the way Marvin Olasky and Matt Whitman make me think about practical Christianity. Here are links to a couple different takes from them:
Loving our Neighbors Amid a Pandemic – Marvin Olasky
Being a Christian During Coronavirus (Covid-19) – Matt Whitman
March 14, 2020
Hello people of Life's Journey,
We want to announce our recommendation of Dustin Dodson as candidate for head pastor.
Briefly, the general reasons for putting him forth as candidate:
He holds to the same essentials we do about what the gospel is, who God is, and what the church is (e.g., preaching the Bible to preach the gospel, Christ-centered worship, prayer, mission-mindedness)


More specifically, he is consistent with what we laid out in the "who we are" note (briefly, we lean on the power of the transformational work of the Holy Spirit rather than on legalism, and we value the calling of God's people together to build one another up as disciples).


Then practically, he is a man with certain gifts, experiences and passions that complement us, and bring fresh ideas and energy for implementing the vision


Furthermore, we believe he exhibits the life-change promised in II Cor 5:17, that "anyone in Christ is a new creation" in some tangible ways
What this means is that we intend to give you, the congregation, some serious and intentional opportunities to get to know him enough to see what we see over the coming weeks. Then after review with the Staff, the Members will vote to affirm (we are thinking this could be in early April). Sunday night we will announce a plan for these opportunities to hear more about Dustin, meet him again, have open discussion with the elders, and talk with one another about our vision and next steps as a church body.
Meanwhile, please do not hesitate to reach out directly to the elders with questions, concerns, thoughts or ideas. We have had several enriching conversations with church leaders around our city as well as with Dustin over the last several weeks, and have much to share, but it's hard to express it on electronic paper here.
The Elders
january 19, 2020
Hi everybody,
Just wanted to summarize some of the goings-on and thought processes this month so far. Some of the specifics (names, etc) I don't want to post electronically but would be happy to share in person with anyone.
I. Of the pastorship 'options' for our continuing on after Keith steps down, the two that we have made progress on are:
a. a permanent pastor who complements who we are as a church (and as elders) while bringing fresh energy and vision to our situation.
b. operate under the umbrella of another church.
I wish it were as easy as linearly ticking off options as we go, but it's not quite that straightforward! So things go on on multiple fronts at once. Also, please keep talking with us about any ideas or concerns about these or other options (merging, interim pastor, etc.). Personally, as far as time and location, I (Tim) would be open to shifting to a Sunday morning school-type rental situation, but would want input from this new pastor or umbrella leadership body.
II. Before, we had posted "who we are" that wasn't really a beliefs statement, but a snapshot of distinctives. From a couple conversations it was brought up that it's incomplete without our beliefs statement. How true! I want to remind you all that the beliefs/doctrines statement is posted on the Life's Journey website at http://www.lifesjourneychurch.com/who-we-are/our-beliefs
It's narrative form on the page, with a new link to a pdf of more point-by-point statements.
III. As people leave in Thomas's wake, some changes are obvious; also we miss them and mourn their loss.
First of all, I'd encourage you that if things feel they are contracting, or on life support now, in a few months we can be in a totally different stance – please persevere with us to see what's in store.
Second, we've been talking about two threads in response to this: "locking arms" and "focusing on the essentials." I think of "the essentials" as "principles that we can't ignore" – then what should we be doing about them with the resources we have?
1. direct biblical mandates – The Lord tells us to meet together, praising God in song and hearing the preaching of the word. That of course is the foundation of our Sunday evening meeting! But also to form a loving community around kingdom values (it's hard to sum up chapters and chapters of "one another" passages!).
2. The broader biblical model – this is where we talk about discipleship, community, and missional living and teaming. A few things to mention about that:
a. Life Groups – I hear great reports from some, and know that others are struggling with many members leaving. We are working through talking to many of you about the needs here, but don't wait for us to call – if you need help with a dwindled life group, or connecting to a new one, please talk to us!
b. Ultimately, we desire discipleship to Jesus (or apprenticeship, as Dallas Willard called it). A part of this is with one another, so we can all say with Paul "Follow my example, as I follow Christ." We are looking at more concrete ways to express this. At the Men's Connection Gathering on Monday (20th) we intend to discuss this.
c. We want to explore how discipleship and missional living go hand-in-hand. For example, I've been talking with some about involvement in Christ-centered outreach with our children through organizations like Huntsville Inner City Learning Center or other ways. It's a sweet opportunity to do things together like that with not only your own children, but teaming family to family!
d. Locking arms. All those things we've mentioned are ways we can team together and be the church with one another – we'll probably find in the process we also learn of each-others' needs and ways to meet them as well! Also, Nancy has expressed how helpful it would be to have people come to McDonnell school and just listen to the children read in order to help them read better. I know it's hard for many during work hours, but let's see what we can do.
Life's Journey Elders
December 12, 2019
Hello Church, a couple of quick things:
The Stewardship Team has deliberated and recommends that we hold off making any offers on any buildings until we have brought on a new pastor. We concur with this approach. Furthermore, they have closed the books on FY2019, and have made strides in tightening up the accounting of the balance sheet.
On the pastor search, we have conversed with two men, and shared with them the "who we are" sheet (from the last Elders' Note). Praying and thinking will be ongoing of course, and we intend to follow up with them soon, while working to further communicate the particulars of the pastor role, and preparing to broaden our search as necessary.
Update from the Elders
DEcember 1, 2019
Prior to Keith's announcement, we realized we needed to think more clearly about what the identity of Life's Journey Church is, to help flesh out the vision moving forward. Now that Keith will be turning over the lead-pastoring, identifying and communicating what makes us who we are is even more essential.
What are our distinctives, Life's Journey? Why do we exist as a group? Being firmly grounded in the essentials of salvation through Christ alone that bind all true Christians, we also have identified some ways that we have become as a congregation.
We invite you to weigh these things and converse with us about them. Some of these we are confident are the most in line with God's teaching, others are cultural, reflecting things about us individually and our community. It is our current best estimate of where we are, knowing that we want to be ever aligning with what God desires for us, as we think about his calling for us in South Huntsville.
Beliefs:
We focus on God's sovereign care for his flock – we are sealed by his Holy Spirit (hallelujah!) and he cares that we walk NOW in his eternal life by the work and power of Christ Jesus. Our value is in our identity in Christ – he has transformed us from who we were, and changes our motives. Thus spiritual life is about who we are, not what we do or have done in the past.
We do not believe there's any ultimate value in behavior modification or legalism. In fact, we have been very much a place of respite for those who have been beaten up by those false notions of spirituality. We don't strive to be ONLY that, but we do want to continue to provide that respite, pointing hurt people to the Jesus of Matt 11, whose "yoke is easy and burden is light." How we teach the word of God is in line with this – each story is not mainly a moral example to follow. Rather, each story is first a piece of the puzzle toward knowing God, pointing toward Christ, and/or understanding the human condition. After hearing that we say "aha!" as the Spirit sheds light on who we are and we see what that implies for us to walk in.
Practices:
Further, we believe the The Church is God's global plan, and that He has put smaller groups of people together to express this. That is, the local church (with Life's Journey as one example) is a group of God's people that he has called together, and not a human organization. We will use organization to keep people together, but we do not want to use people just to keep an organization together.
Therefore, we want to be a gathering of people who draw one another and others to Christ by loving on them in genuine care. Not as those who "have arrived," but as co-journeyers learning to trust God more fully. We also welcome opportunities to serve or serve with other groups of believers with our missions. Similarly, regarding a future place to meet together: we don't need an edifice to glorify us, but we intend to steward as a resource for his glory a more permanent residence if God chooses to entrust one to us.
We perceive that God has been working in the past, and is also working now, so we do not set our hopes on the latest fads, nor do we stick rigidly to some previous expression of faith. Rather, we seek how God's timeless truth enlightens our walk today.
Update from the Elders
November 26, 2019
After Thomas's final Sunday with us on January 5, Shaun Gates and Robby Baker have agreed to share in leading worship for a time. You've seen each of them lead before when Thomas couldn't, and we hope you'll give them your warmth and support! We believe this will help us get further along in the planning for Keith's successor before we make any permanent decisions.
Now, of course Thomas's contribution to church life has been broader than leading worship, so we are still in the process of working through who can take on his other duties. So please continue to be in prayer with us about that. And let's make sure Thomas knows how much we appreciate his labor for and with us over the years!
Letter from the Elders
NOVEMBER 15, 2019
Dear Church Family,
Having received Keith's letter expressing God's call to join a worldwide disciple-making ministry, the elders of LJC agree that he should pursue that call. We are excited for him to have this opportunity that appears to be so well-aligned with his gifts and passions.
We have worked out a plan of transition through April of 2020, during which time we intend to search for and onboard his successor. We believe this time and continued collaboration will help us identify someone who can complement our strengths while fitting our culture, understand and transition all the practical matters that have been a part of Keith's job description, and launch Keith as he must raise support for his new ministry. Also, we intend to bridge that time with interim worship leaders, allowing the successor to take part in the search and selection of a permanent worship leader.
The elders have agreed to support Keith and confirm him in his new ministry. We recognize that this has been a time of uncertainty in the life of our church body with changing times in a borrowed building. This is a cocooning time, when we may strengthen our relationships with one another and with God. We await in hopeful expectation the other side while walking intentionally in what is right before us. We elders are convinced that Keith transitioning now is God's good timing as a part of this process, and celebrate with him.
We covet your prayers in all this, as this is the Lord's church, and we all, individually and corporately, are utterly dependent on His leading and guiding us through this transition.
Thank you,
The Elders of Life's Journey Church
A Letter from Pastor Keith
November 15, 2019
Dear Church Family,
After much prayer and discernment, Janis and I believe the Father is leading us on a new journey. For several months we have been approached by a Global Mission organization that would like for me to come on board and equip leaders. I will be joining a proven team of leaders who are focused on a gospel-centered discipleship plan.
We have asked and the Elders are in agreement with this being a gradual transition over the next six months. This is helpful as we are raising our own support. We have never raised support but we know the Lord will provide. We trust this timeframe would also help Life's Journey transition in the direction they believe God is calling. With that being said, our resignation will be effective on April 30, 2020.
This is not an easy transition for us, but one we believe God is calling us to. We love each and everyone of you and have been so blessed by the love, commitment and support from all of you. I am currently out of town with my family, but I will be sharing more on Sunday night (November 17th). Please join us to hear further details.
Keith Miller